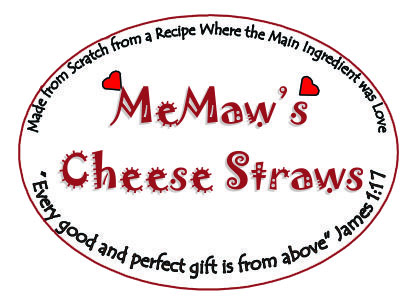 MeMaw's Cheese Straws
900 Edgar Road | Yazoo City, MS 39194 | 662.571.6805
Welcome to
MeMaw's Cheese Straws
MeMaw's Cheese Straws are made from a recipe where the Main Ingredient is LOVE! They are crispy, crunchy, and have that little zesty "kick" at the end! MeMaw's Cheese Straws are made from scratch in small batches with the highest quality ingredients - just like MeMaw made them!

Any time--Come visit our Vendor booth at Downtown Marketplace on Main Street in Yazoo City, MS.

We will have a booth set up at the Ron Meyers Christmas City Gift Show inside the Miss. Coast Coliseum in Biloxi, MS, November 11-13, 2016.

On November 18 - 19, 2016 we will be at the Handworks Holiday Market inside the Trade Mart in Jackson, MS

We will finish up our 2016 tour at the Hotty Toddy Marketplace in Oxford, MS on December 3, 2016.

Come by and check us out!
---